Landscape Services

Lawn Care
Mowing
Regular mowing is important in maintaining a healthy lawn.
We offer mowing on a weekly or bi-weekly basis. OCD recommends a schedule based on the healthiest choice for your lawn. Our experienced crews cleanly mow all lawn areas and carefully line trim around any bed edges, walks, drives and tree rings. OCD also takes the time to make sure all walk and drive surfaces are free of grass debris prior to leaving your property.
A set price per visit will be prearranged and we will do our best to assign a specific day that our crews will be out to cut the lawn.
Turf Maintenance
OCD knows that a healthy lawn does not happen without extra care. We have even created turf programs that can be uniquely tailored to fit your property's needs.
Combining quality fertilizer products, turf care knowledge and an understanding of your lawn's needs; we can properly care for your property. Well-established, struggling or new turf can greatly benefit from a turf care programs. Because it normally takes about two to three years for turf to become well-established, OCD uses a combination of fertilization, weed control and fall reseeding to encourage growth.
For more established lawns, we work to maintain the turf's hearty appearance and further support growth. Our seven-step application program includes six fertilizer applications and one preventive fungicide treatment. In addition to the applications, our staff constantly monitors your lawn in case weed control, fungus or mole control programs are needed.
Cleaning & Maintenance
Clean Up, Mulching, & Maintenance
Maintaining a clean and organized landscape does wonders for your curb appeal! OCD recommends a fresh mulching and clean up of your property at least twice a season to keep that fresh, clean look!
Pruning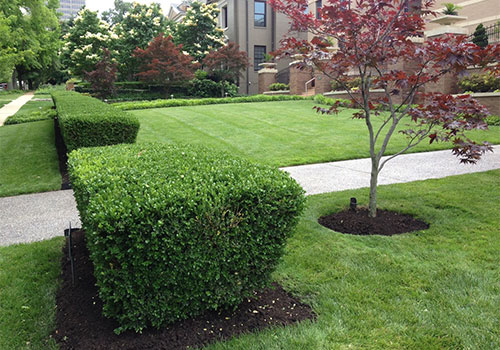 It's very important to keep your ornamental trees and woody shrubs properly maintained by pruning and trimming. Pruning your trees and shrubs not only makes them look beautiful, but also is a function of health and proper growth for the life of the plant.
Our experienced staff has a tremendous attention to detail and prides itself on meticulously combing through every inch of your property! Throughout each season, OCD will visit your property to prune and shape your trees and shrubs based on each plants individual needs. OCD recommends trimming and pruning your woody plant material twice a season, after the spring flush and then again in early fall.
Leaf & Snow Removal
One of the best things about living in Missouri is the beautiful changes in scenery, but with the seasons can come back-breaking labor! Take back your seasonal free time and let us do the work for you! Our team specializes in removal of both snow and leaves!
We understand that not everyone has the time or the desire to rake leaves. Multiple leaf removal visits in the fall provides your lawn more time to thicken up prior to winter dormancy. OCD will be happy to visit your property once or many times a season or many depending on your needs. We can also coordinate with your city leaf pick-up schedule or come and remove leaves you have already gathered.
Our snow removal crews work quickly and thoroughly to handle all of the winter precipitation. OCD has experienced drivers and with proper weather anticipation, we keep your property functioning despite inclement weather.